Spaceport America

GOVERNOR BILL RICHARDSON & SIR RICHARD BRANSON
CELEBRATING THE ANNOUNCEMENT OF SPACEPORT AMERICA
Photo 2010: Virgin Galactic


WHAT IS SPACEPORT AMERICA?
The platform for one of the most exciting things ever — private space tourism!
Here is a short video introduction to Spaceport America created by the New Mexican firm ZebraVista.
A privately owned company with global headquarters at Spaceport America, New Mexico, will be offering space travel to the general public.


WHO IS BEHIND THIS PROJECT?
The company that attempts to carry out this project is called Virgin Galactic.

Their owner is Sir Richard Branson.
WHERE IS SPACEPORT AMERICA LOCATED?
Spaceport America is yet another neighbor of White Sands National Monument. It is located in southern Sierra County, near Upham, 45 miles northeast of Las Cruces, South Central New Mexico and 30 miles southeast of Truth and Consequences in Sierra County, NM.
The site stretches across approx. 18,000 acres.
Here is the map location of Spaceport America.
US consulting firm Futron estimates the New Mexico spaceport could create 3460 new jobs and $460 million spending in the state by 2015.
HARDHAT TOURS
Public tours are available since December 2009. You will get a quick tune up of your New Mexican history (can't hurt, let's face it) and of course you will get the tour of the construction site. Exciting, exciting...


WHAT'S IT GONNA LOOK LIKE?
It is going to look like this:


West Entrance Elevation


East Elevation to Runway


South Elevation

All three pics above by Foster + Partners, the architects. Their 2.2 acre / 9,000m2 design will house a spaceship hangar and an astronaut terminal control room. And they comment as follows:
The sinuous shape of the building in the landscape and its interior spaces seek to capture the drama and mystery of space flight itself, articulating the thrill of space travel for the first space tourists.


WHEN WILL SPACEPORT AMERICA BE READY?
Spaceport America was scheduled to open for business late 2010 / early 2011. That's when the 10,000 foot long runway and a terminal hangar facility was expected to be complete.
September 27, 2010 - Here is an AFP update on the launch date:
Billionaire entrepreneur Richard Branson said Monday [September 27, 2010] that Virgin Galactic is on track to offer commercial space travel within 18 months, and that space hotels are next on the drawing board.

The project's SpaceshipTwo, an aircraft built by aviation engineer Burt Rutan and designed to carry paying customers into suborbital space, had its maiden flight in the California desert in March.

"We just finished building SpaceShipTwo. We are 18 months away from taking people into space," Branson told a business conference in Kuala Lumpur, adding that the fare will start at 200,000 dollars.

Virgin Galactic, which aims to become the world's first commercial company to promote space tourism, has already collected 45 million dollars in deposits from more than 330 people who have reserved seats aboard the six-person craft.

Branson also has visions of establishing hotels in space, which well-heeled tourists can use as a base for shuttle flights over the moon.

"We are looking at hotels in space. We love the moon," the tycoon said, adding that he was also interested in launching "small satellites into space" for the benefit of schools and universities.

WHAT KIND OF SPACE TRIP ARE WE TALKING ABOUT?
Virgin Galactic's space trip will last approximately 2 1/2 hours. There will be 3 days pre-flight preparation, bonding, and training onsite at the Spaceport.
Initially, it is planned to offer one flight per week. As operations progress, this will increase to one and potentially two flights per day.
You will book a seat aboard Virgin's Space Ship Two, a small spacecraft that will hitch a ride on the mother ship White Knight Two, the world's largest carbon-fiber aircraft, which will climb to a height of 50,000 feet, before blasting off towards the edge of space.
During the two-and-a-half-hour round trip, passengers will be propelled to an altitude of 70 miles at a speed of more than 2,000 mph. As the spacecraft reaches the top of its trajectory the private astronauts will be able to unclip from their seats and experience four to six minutes of weightlessness.


HOW MUCH IS IT GONNA COST?
Tickets go for US$200,000. Virgin has been selling tickets since 2005 and already hundreds have signed up. The first 100 had to pay their full US$200,000 fare up front.

Here you can book directly with Virgin Galactic.

However, if the technical development of the spaceship is completed earlier than the construction of Spaceport America, people will be launched from Mojave Spaceport, California, where Burt Rutan shaped, formed, and optimized Virgin Galactic's spacecrafts.


VIRGIN - THE WORLD'S FIRST
COMMERCIAL SPACELINE?
Photo: Virgin Galactic

Is it going to be safe?
Well, Branson and his children, Sam and Holly, will be the first commercial passengers on SpaceShipTwo. And we get the hint.
Now... there is another space trip vendor who will offer trips for $100,000 per pop. Rocket Racing, Inc. and Armadillo Aerospace of Mesquite, Texas, are behind this competitive proposal. They say they will be ready in 2010. They too will take off from Spaceport America in New Mexico.
Two passengers at a time will launch into suborbital space about 62 miles (100 km) above earth and experience a few minutes of weightlessness before beginning their descent. The kicker? They will be enjoying a 360 degree view thanks to a bubble-like design. Check it out:

SPACE TRIPPERS IN A JAR
BROUGHT TO YOU BY ARMADILLO AEROSPACE

And the guys from Galactic Suite Limited are planning to be the world's largest chain of space resorts. They say they will be ready for business by the end of 2012. Spend eight weeks in the Caribbean and the weekend in space. Oh yeah, and pay $4.4 million (3 million Euros). Here it goes:

AFTER AN EIGHT-WEEK TRAINING ON A TROPICAL ISLAND
YOU WILL BE WATCHING 15 SUNSETS PER DAY IN SPACE


WHO PAYS FOR ALL THIS? - SPACE PORT TAX
The $198 million Spaceport America being built in Sierra County was expected to be completed in 2010.
The company states that Virgin Galactic has "committed the resources required to ensure proper funding."
Virgin Galactic will receive a funding of $100 million from the State of New Mexico, so the State decided in 2006. In addition, the State will design and construct all necessary facilities.
And on top of that the people in Doņa Ana County voted on Tuesday, April 3, 2007, on the subject of whether or not they are willing to pitch in by means of paying higher taxes. See final spaceport tax election results here.
However, in order to charge an additional tax two counties have to approve it. On Tuesday, April 22, 2008, Sierra County did exactly that. Doņa Ana County followed suit on July 22, 2008. These fine people are now helping the spaceport out with a 0.25% sales tax. In other words, the spaceport gets 25 cents for each $100 purchased.
But not everybody is as cheerful a giver. On November 5, 2008, Otero County voted against the Spaceport America tax. 52.3 percent voted against, 47.7 percent voted for the tax. This means the spaceport project will have some $2 to $6 million less to spend.
And here is a map of the counties in New Mexico. Look southwest.

The Spaceport Tax in Detail:
The Legislature required the formation of a tax district to collect the gross receipts taxes approved in 2008 by voters in Doņa Ana and Sierra counties. Who's gonna keep track of the public cash? The Spaceport America Regional District Board.
A special inaugural meeting of the Board of Directors of the Regional Spaceport Tax District was held on Friday, January 23, 2009, in Hatch, New Mexico in order to formally begin operations of the Spaceport America Regional Spaceport District.


THE NEW SPACESHIP WILL ALLOW SIX
PASSENGERS AND TWO PILOTS PER FLIGHT
Photo: Virgin Galactic

Via press release of March 28, 2007, the New Mexico Economic Development Department announced that Virgin Galactic signed a Memorandum of Agreement with the New Mexico Spaceport Authority setting out the terms under which Virgin Galactic would lease approximately 83,400 square feet of hangar and terminal facilities at Spaceport America.

The NMSA will construct common facilities that will include runways, emergency facilities, fuel storage and delivery, perimeter security, restaurant and concessions, and visitor viewing areas. Tenants will pay User Fees to use these facilities.

In effect, the NMSA will build and own the Virgin Galactic facilities and then lease them to Virgin Galactic.

Spaceport America is expected to have the potential to create up to 5,000 new jobs and up to $1 billion in new revenue in the State.

SPACEPORT AMERICA
... an artist's rendering


WHAT ELSE IS VIRGIN GALACTIC UP TO?
Spaceports across the world are envisioned with specially selected travel agents offering to sign on for the ultimate trip. The European spaceport is planned to be located in Kiruna, Sweden.
In January 2009, Spaceport America and Spaceport Sweden have signed a Memorandum of Understanding. They will help each other developing the commercial space industry and henceforward call each other Sister Spaceport.
On September 5, 2009, Richard Branson, CEO of Virgin Galactic, gave an interview on Swedish TV4. Here is an excerpt:
Fredrik Andersson, TV4: - Do you think that we will travel to space in the same way as we travel to for example Thailand today?

Richard Branson: - I don't think that people will travel to space in the same way they travel to Thailand. Having said that I think that the technology that we are developing at Virgin Galactic for space travels may well enable you to go to Thailand from Scandinavia in half an hour by popping you out of the Earth's atmosphere and then straight back again at an affordable price. I think that in your lifetime that is a possibility.

- Is that the next step for Virgin Galactic?

- That is the next step for Virgin Galactic. The first step for Virgin Galactic is to let people marvel and enjoy the experience of going into space. The next step will be to try to see if we can use the technology to get people to travel very quickly around the world.
The interview can be viewed on www.spaceportsweden.com

On August 10, 2011, it was announced that NASA selected Virgin Galactic to shoot their payloads into space onboard Virgin Galactic's spacecraft.


Here you can check out Virgin Galactic.


WHAT ELSE IS GOING ON AT THE SPACEPORT IN NEW MEXICO?
UP Aerospace, lone tenant at Spaceport America, has already made themselves at home with a 20 by 100 foot concrete takeoff spot and an equipment trailer.

| | |
| --- | --- |
| | The company UP Aerospace has already launched the remains of Astronaut L Gordon Cooper, Actor James Doohan (Scotty on Star Trek, circled in the picture to the left) and 200 others into space. The date: April 28, 2007. In fact, the 20-foot-rocket made a 4-minute suborbital flight, parachuted back to earth, and was recovered from the top of the San Andres Mountain range May 18, 2007. |
The company logged another successful launch in December 2007, though details of that commercially sensitive mission haven't been disclosed. It is rumored to have been a small demonstration launch to test proprietary technology currently under development by Lockheed Martin. Additional flights included about 50 student projects.

Starting at $2,000 you too were able to let UP Aerospace shoot your items of choice into space. Now it seems that they have discontinued their service.
But check out Celestis, the company that offers memorial space flights.


UP TO DATE WITH SPACEPORT AMERICA
December 4, 2011 - At around 11:00 am today, Armadillo Aerospace successfully launched an advanced sounding rocket. The press release reads:
Armadillo Aerospace is a leading developer of reusable rocket-powered vehicles and plans to provide a platform for civilian access to suborbital space via its partnership with Space Adventures, Ltd.

Here is the full press release.
And here is the clip:
October 27, 2011 - Virgin Galactic plowed through 500 job applications and selected their first astronaut pilot. And the lucky winner is ....

Keith Colmer
Photo: Virgin Galactic
There will be more hiring, so if you fancy this job, it ain't too late.
October 17, 2011 - Official dedication ceremony of Spaceport America. More than 800 guests marveled at Virgin Galactic's commercial space vehicles as they soared through the skies of southern New Mexico. Spotted in the crowd were New Mexico Governor Susana Martinez and U.S. Congressman Steve Pearce.
August 26, 2011 - Spaceport America receives a federal grant for the second consecutive year. The Federal Aviation Administration (FAA) grant is worth $249,378 toward the cost of a roll-back vehicle integration building at Spaceport America.
July 6, 2011 - Virgin Money, a financial services company, and one of Branson's many Virgin flavors, has a special promotion for its Australian customers to celebrate its birthday:
Win a trip into space.
Here is more. Entries closed September 30, 2011.


April 21, 2011 - You will be able to tour Spaceport America, starting Friday, May 13. The tour company that will take good care of you is Follow the Sun Inc, based in Albuquerque. And yes, their website at ftstours.com does make you wanna scratch your eyeballs from the inside. But remember, they just gonna drive you. They don't threaten to re-design your living room.
What will you be able to see? All spaceflight facilities before operations begin. The three-hour tour will cost adults $59 and $29 for children under 12.

Tours will be conducted each Friday, Saturday and Sunday.


April 18, 2011 - And the new boss is active. According to Las Cruces Sun-News, who cite Albuquerque Journal, Anderson canceled a $1.3 million contract with the Albuquerque-based firm Procurement Solutions. The job in question is the overseeing of the facility's development, and Anderson would rather like to see state employees doing it.
April 11, 2011 - Virgin Galactic is looking to hire pilot-astronauts for Spaceport America. You can apply at their website. Closing date is April 30.
February 28, 2011 - Martinez found her new executive director in Christine M. Anderson, age 64, former civilian Air Force official, who retired January 2008 and hence got plenty of rest to appear spunky at her new desk.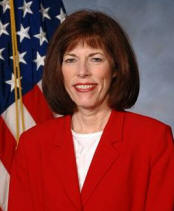 New Spaceport Director Christine Anderson
February 9, 2011 - Martinez appointed the new board. And the winners are: Benjamin Woods, Jerry Stagner (Woods and Stagner were also on the previous board) Richard Holdridge (chair) David Buchholtz, Scott Krahling, Irvin Diamond, and Sid Gutierrez.
January 29, 2011 - Las Cruces Sun-News reports
Martinez acknowledged that Virgin Galactic founder Sir Richard Branson called her to request that former spaceport Executive Director Rick Homans be retained, but said she needed to make a change, in part because her team has not been able to conduct a thorough review of spaceport operations. She removed both Homans and the spaceport board, and has yet to name replacements.

"What we want to do is get a hold of the contract (with Virgin Galactic) and make sure we know what the long-term commitment is financially," she said. "They have not been very willing to share the very hard data of what is the state's commitment long-term."

Martinez reiterated her support for the spaceport project, and said there would be a sense of urgency in filling the positions.

"We want to go forward, but we want to have a clear understanding of what we're going forward with," she said.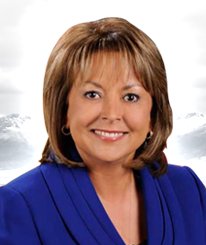 Governor Susana Martinez on the Roll


January 14, 2011 - Things are happening. Martinez also fired the spaceport commission's board of directors. ABQ Journal confirms and is equally stunned: "In her first two weeks in office, a wary new governor sacked both the Spaceport Authority's board and its executive director."
Trusty Las Cruces Sun News reports Martinez' official statement: "There's no question that the spaceport can bring jobs to New Mexico, but long-term success will require the right leadership. Given its significant costs, I believe that developing the spaceport to its full potential requires more robust private investment and new leadership to make necessary adjustments."


January 5, 2011 - Spaceport director Rick Homans says he was given the choice to either resign or to get fired. He resigned today, effective end of January 7, 2011. Who would put Rick in this awkward position? Governor Susana Martinez and her team. They say there are reasons.
October 22, 2010 - Spaceport runway was dedicated. Its official name is Governor Bill Richardson Spaceway. Attending amongst others were Bill Richardson, Richard Branson, and around 30 future astronauts. Together, they watched WhiteKnightTwo/SpaceShipTwo fly by and land.
October 10, 2010 - Virgin Galactic completes first piloted free flight of SpaceShipTwo, aka VSS Enterprise. The two pilots were Pete Siebold (pilot) and Mike Alsbury (co-pilot).
September 30, 2010 - The Federal Aviation Administration (FAA) announced a new grant program with funding for projects that develop space transportation infrastructure. For the New Mexico Spaceport Authority, this means $43,000 for an Automated Weather Observing System.
July 27, 2010 - Gov. Bill Richardson made Benjamin E. Woods, administrator at NM State University, chairman of the New Mexico Spaceport Authority's board of directors. Furthermore, Richardson appointed Patrick H. Beckett, archaeologist and Las Cruces bookstore owner, to the board.
June 2010 - Rick Homans is new spaceport director.
April 16, 2010 - Spaceport director Steve Landeene quit his job. He will stick around until May 14 and then check himself into a spa for the next three decades. Steve says the stress and time commitment became unbearable and he wants his life back, bless his heart.
June 19, 2009 - Spaceport America's official groundbreaking ceremony took place. The BBC got the story and video clips.
May 2, 2009 - UP Aerospace launched another mini-rocket into space, or attempted to anyways. Something malfunctioned and the payload was ejected before the rocket could reach the desired height, which it didn't. The payload consisted of a portion of the cremated remains of 16 individuals and some students' experiments.
April 25, 2009 - Formula One legend Niki Lauda has purchased his space ticket for a ride on the Virgin Galactic spaceship, and so has Rubens Barrichello. But Lauda aims higher and says he would also like to fly the spaceship. Of course we think "space race" and are itching to place our bets.
April 7 - 16, 2009 - People wonder about the job opportunities at Spaceport America and rightly so. Info meetings regarding potential jobs for contractors, businesses, organizations, and individuals had been scheduled in various NM cities. The events were hosted by Gerald Martin Construction Management of Albuquerque, which is the company selected to manage the construction of Spaceport America.
Please check the official Spaceport America website for updated info regarding job opportunities.

December 31, 2008 - Getting another formality on its way: Virgin Galactic and the State of New Mexico sign a 20 year lease agreement.
December 21, 2008 - According to Virgin Galactic, Eve, photo below, performed a flawless maiden flight.
October 2, 2008 - Space.com reports that Virgin Galactic rejects a million-dollar offer to film a sex video in space, gravity free. Too much controversial press too soon. Give it a couple more years and we're all gonna be good and ready for some tasteful space porn. Virgin Galactic. Getit?
September 18, 2008 - The New Mexico Spaceport Authority and the New Mexico Department of Transportation have begun building the road that will connect to Spaceport America. The project began today and will improve County Road AO13 from Engle, south to the intersection of AO13 and AO39, which is the entrance to Spaceport America.
July 28, 2008 - Virgin Galactic introduces their mothership aircraft. That's the one that will carry the spaceship including passengers to launch altitude. Wingspan: 140 feet.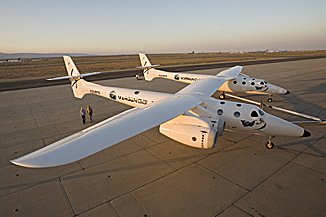 Mothership "Eve"
The craft is named after Branson's mother. Keeping this in mind combined with the fact that the design of the spaceport might or might not resemble a gigantic vagina, it appears that the further man seeks to explore space the more he is drawn to celebrate his origins. Viva fecundity. Prostitution is legal in parts of Nevada, by the way.
July 9, 2008 - The New Mexico Spaceport Authority (NMSA) launches their website. Check it out at spaceportamerica.com

July 3, 2008 - Gov. Bill Richardson has appointed Daniela Glick chairwoman for the Spaceport Authority.
April 15, 2008 - Another non-binding agreement was announced this morning with aerospace giant Lockheed Martin, the third such agreement in the weeks leading up to a crucial tax referendum Tuesday in Sierra County. The development agreement is a precursor to a lease but is not an actual lease. The agreement would commit the British firm to a 20-year lease at the spaceport but does not include any financial terms of the deal. Lockheed - the world's largest aerospace company, with $42 billion in revenue - has already tested some new launch technologies at the Spaceport through subcontracts with Colorado-based UP Aerospace.
April 10, 2008 - Microgravity Enterprises Inc, based in Albuquerque NM, also signed a memorandum.
April 9, 2008 - UP Aerospace signs a 10-year memorandum of understanding to continue using the site. UP Aerospace president Jerry Larson said no contract is involved but the agreement reaffirms the company's plans. "It's more of a gentlemen's agreement, a handshake deal to show we intend to get this done," Larson said.
April 7, 2008 - The New Mexico Spaceport Authority gave Executive Director Steve Landeene the authority to sign an agreement between the state and Spaceport America anchor tenant Virgin Galactic. The agreement commits the British firm to a 20-year lease to host its space tourism operations at the spaceport.

December 6, 2007 - The new executive director for Spaceport America is Steven Landeene, who will have his first day at his desk on January 7, 2008. Steve's profile: Last job as the director of strategy and planning for sales and marketing of Landmark Aviation in Phoenix. Bachelor's from the University of Illinois, master's from Arizona State University.
September 4, 2007
The architects have been busy and presented the new Spaceport America design.
August 1, 2007 - A team of U.S. and British architects has been selected to design a terminal and hangar for the state's fledgling spaceport in Southern New Mexico. Engineering and design firm URS Corp. and British architectural firm Foster + Partners submitted the winning design.
July 26, 2007 - Mojave, California: There has been a huge explosion at Virgin Galactic's rocket garage. Associated Press reports three fatalities. The Mojave Air and Space Port is run by Scaled Composites, the company that develops spacecrafts for Virgin Galactic.
July 11, 2007 - That's right. Homan signed up with a rubber recycling company that will have its headquarter in Albuquerque and its factory in Gallup. By the way, actor Mel Gibson is one of its investors. Who's gonna be the new exec of the NM Spaceport Authority? We wonder.
July 4, 2007 - We picked up on a vibe that Rick Homans quit his job. Weird things are happening.
June 14, 2007 - And so they did... Check the complete list provided by the National Trust for Historic Preservation.
June 6, 2007 - Will the spaceport endanger historic landmarks? New Mexicans get panicky. Rick Homans answers by putting the El Camino Real de Tierra Adentro National Historic Trail on the endangered list of the National Trust for Historic Preservation. Or he rather announced today that the National Trust will do so next week.
June 4, 2007 - Las Cruces City Council unanimously approves of selling 45 acres at the West Mesa Industrial Park to Grabois Development, a limited liability company based in Miami, for $1.2 million. The owner, Mr Adam Grabois, plans to sell and lease space in speculative buildings in the industrial park. Constructions will commence this fall. Grabois previously made a healthy buck in real estate in Manhattan and Florida's south.
May 2, 2007 - Gov. Bill Richardson has appointed Rick Homans executive director of the New Mexico Spaceport Authority, the body that manages Spaceport America. Homans will leave his post as state secretary of economic development immediately to oversee construction of the spaceport.




VIRGIN GALACTIC AND NASA
February 21, 2007 - NASA officials signed a memorandum of understanding Tuesday with Virgin Galactic, LLC, to explore the potential for collaborations on the development of space suits, heat shields for spaceships, hybrid rocket motors and hypersonic vehicles capable of traveling five or more times the speed of sound.
More about NASA at White Sands.


THE SPACEPORT AND THE FEDERAL AVIATION ADMINISTRATION (FAA)
December 15, 2008 - The FAA gave their thumbs up! Spaceport America got the FAA's license plus the go-ahead from the environmental impact study. Steve Landeene is a happy camper and ready to strike. "We are on track to begin construction in the first quarter of 2009, and have our facility completed as quickly as possible."
Now wait just one minizzle. How come they already shot stuff into space from there? Was it illegal because it was without a FAA license? Not at all. Those flights were allowed on a launch-by-launch basis. Now this here is the real deal. Plus, the State promised to help out with some sweet funding for the construction site IF a FAA license could be seen pinned on the wall.
By the way, according to msnbc, the following states already have a FAA license for commercial spaceports: Alaska (Kodiak), California (Mojave and a commercial launch site at Vandenberg Air Force Base), Florida (Spaceport Florida at Cape Canaveral), Texas (privately operated by Blue Origin near Van Horn), Oklahoma (Burns Flat) and Virginia (Mid-Atlantic Regional Spaceport).

July 31, 2008 - The Federal Aviation Administration (FAA) compiled a study regarding the environmental impact of the spaceport. It concludes that there will be little to no impact on the area. If you beg to differ, you can. FAA conducts hearings: August 5 - Alamogordo City Hall, August 6: Truth or Consequences Civic Center, August 7: Doņa Ana County Government Center


OTHER SPACEPORTS
Other commercial spaceports in the US are located at Oklahoma, Florida, Virginia, Alaska, and two spaceports in California. Spaceport America in New Mexico will be the first private spaceport in the world.
November 23, 2009 - Spaceports all across the world are ready to unite and they call themselves the CSF. And yes, there's a website... check out the Commercial Spaceflight Federation.
April 25, 2009 - Another spaceport location is going to be decided upon shortly. The Guardian (UK) quotes Branson as follows. "We are in discussions with Bahrain, with Qatar, Abu Dhabi, Dubai and Saudi Arabia and over the next two months we will settle on one of those five countries."
January 2009 - The European spaceport is supposed to be located in Kiruna, Sweden. See more under What else is Virgin Galactic up to?
April 12, 2008 - Virgin Galactic confirms long term interest in setting up a spaceport in Australia.
To the best of our knowledge all information is current. If you should discover any errors, however, please let us know. Thanks!