Military at White Sands

PHOTO OF THE EXPLOSION OF THE FIRST ATOMIC BOMB AT TRINITY SITE
WSMR
The picture above was taken on Monday, July 16, 1945, at 5:29:45 a.m. Mountain War Time at Trinity Site, White Sands Missile Range.
The 51,500-acre area was declared a national historic landmark December 21, 1965.

Less than a month later in 1945, the uranium-based "Little Boy" atomic bomb was dropped over Hiroshima.

Three days later, the plutonium-based "Fat Man" atomic bomb was dropped on Nagasaki. Japan surrendered on Aug. 14, 1945, ending World War II.

Here is the Missile Range History.
Only 40% of White Sands are protected as National Monument. The remainder of the Sands is military land.
The Monument is entirely surrounded by the White Sands Missile Range, formerly called White Sands Proving Grounds.

White Sands Missile Range covers 3,200 square miles northeast of Las Cruces.
And here it is on a map: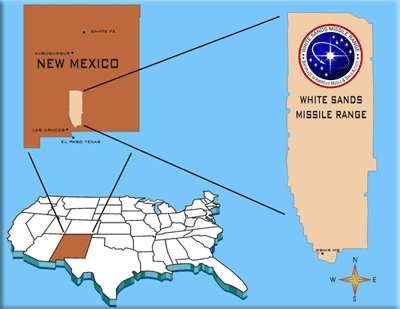 MAP: WHITE SANDS MISSILE RANGE
Set up on the WSMR is the Holloman Air Force Base. And this is the official Holloman AFB site.
Trinity Site and Trinity Site Tours
You can visit Trinity Site and the ranch house where scientists used to assemble the plutonium core. At the site, you can take a quarter-mile walk to Ground Zero, where a 12 foot lava rock obelisk marks the spot where on the north end of what's now White Sands Missile Range the first atomic bomb exploded.
In 1975, the National Park services designated Trinity Site a National Historic Landmark.
Historical photos are mounted on fences near the area. And here is a picture of the obelisk:
After the walk, you can ride a WSMR shuttle bus (no charge) two miles to the Schmidt/McDonald ranch house where the scientists assembled the plutonium core of the bomb.
Trinity Site is located on the Jornada del Muerto, west of the San Andres Mountains at the northern end of White Sands Missile Range, about 150 miles north of Las Cruces.

Here is the map:

MAP: TRINITY SITE


It is possible to visit Trinity Site once a year. The site is open to the public the first Saturday in April. There is no charge for the tour and no reservations are necessary. It is more of an open house event rather than a guided tour.
All adults must show a photo ID when entering the missile range. All vehicles are subject to search and should be carrying proof of insurance and current registration papers. There are no ceremonies or speakers at the site. Usually, food and souvenirs are sold at the site.
Check here for the next Trinity Site Tour.
Check here for the Manhattan Project.
And here is more about one of the scientists who worked at Los Alamos, Richard P. Feynman.

PRESIDENT KENNEDY VISITS WHITE SANDS MISSILE RANGE IN 1963
- THE ONLY PRESIDENT TO VISIT WHITE SANDS WHILE IN OFFICE



Human Resources at WSMR
If you are looking for military employees stationed at White Sands Missile Range you can contact
Military Personnel Information
(575) 678-7645 DSN 258-7645
or email:
WSMRMilitary.Personnel.Information [at] us.army.mil



Annual Bataan Memorial Death March
Once a year, you can participate in the Bataan Memorial Death March. It is is conducted to commemorate the American and Filipino prisoners of war who, during World War II, were forced by the Japanese to march across the Bataan Peninsula in the Philippines in 1942.
On Sunday, March 27, 2011, the event had more than 6,000 participants. Among them 16 survivors of the April 9, 1942 march.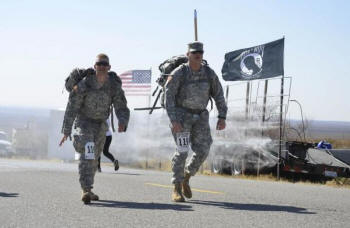 Bataan Memorial Death March 2011
Photo Drew Hamilton
Check out army.mil for more pics and the entire article.

Check events for the date of the next march.
And here is more history info on the original Bataan Death March.
Online registration and everything: Bataanmarch.com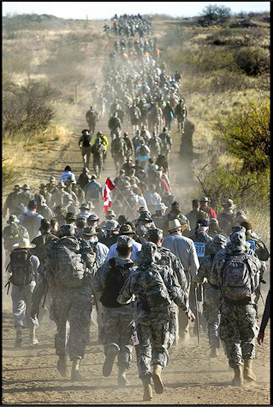 Annual Bataan Memorial Death March
Up to date with the military around White Sands
January 16, 2013 - White Sands Missile Range gets solar panels. From the Associated Press we learn that this is
the largest of the military branch's solar photovoltaic systems.

The $16.8 million array includes nearly 15,500 sun-tracking solar panels spread across 42 acres. It will be capable of producing 10 million kilowatt-hours of electricity each year, which is enough to meet about 10 percent of the missile range's needs.

Photovoltaic Systems, or PV Systems: Solar Energy
AP Photo/U.S. Army)
October-Mid-November 2011 - NIE 12.1 takes place.
June-July 2011 - NIE 11.2 takes place. NIE stands for Network Integration Evaluation.
April 18, 2011 - AP reports:
WHITE SANDS MISSILE RANGE, N.M. — Some 150 soldiers from an Army battalion based in New Mexico are home from Afghanistan.

The soldiers from the 2nd Engineer Battalion returned to White Sands Missile Range about 2 a.m. Sunday after a deployment of about a year.

Forty-nine members of the battalion returned earlier, and officials say a welcome home ceremony will wait until all of the soldiers who were deployed at back at the southern New Mexico missile range.

Two soldiers from the battalion were killed in Afghanistan.

On Feb. 8, 32-year-old Spec. Nathan Carse of Harrod, Ohio, was killed in Kandahar province when insurgents attacked his patrol unit with an improvised explosive device.

Last October, 27-year-old Sgt. Brian Pedro of Rosamond, Calif., died in Pol-e-Khumri when insurgents attacked with small-arms fire and rocket-propelled grenades.


June 13, 2009 - It also works the other way around. Today, Boeing and US Air Force have successfully tested a high-energy laser used while in flight. The aircraft took off from Kirtland Air Force Base in Albuquerque, flew down to southern NM, and zapped a target located on the ground at White Sands Missile Range.
The general advantage of using laser is its ultra-precision. Gary Fitzmire is very much exited and hopes that it will dramatically reduce collateral damage.
January 26, 2009 - During tests in December 2008, a Boeing Laser Avenger shoots down an unmanned aerial vehicle (UAV). For the first time a combat vehicle has used a laser to shoot down a UAV.
"Small UAVs armed with explosives or equipped with surveillance sensors are a growing threat on the battlefield," said Gary Fitzmire, vice president and program director of Boeing Directed Energy Systems. "Laser Avenger, unlike a conventional weapon, can fire its laser beam without creating missile exhaust or gun flashes that would reveal its position. As a result, Laser Avenger can neutralize these UAV threats while keeping our troops safe."
And it looks like this
Read full Boeing news release here.

November 10, 2008 - White Sands Missile Range has activated the 2nd Engineering Battalion. Lieutenant Colonel Christopher Benson heads the battalion and its 200 soldiers at the southern New Mexico missile range.

October 1, 2008 - Army.mil news release: Army Announces Changes to Forces at White Sands Missile Range
These actions represent an increase of 719 military authorizations with no change to present civilian authorizations at White Sands Missile Range. These stationing actions will be completed by Oct, 14, 2012.

The activation and relocation of these units is in support of integrated force structure changes resulting from the President's "Grow the Army" initiative. These units execute mobility, counter mobility, survivability tasks, and provide general engineering missions in support of maneuver and support brigades to enable a tailored force package to be applied to a specific mission group, focused logistics and a constructive force protection.

September 17, 2008 - Japan's military is playing at White Sands. You heard right.
Lockheed Martin and Airmen of the Japanese Self Defense Force successfully supported the first international PAC-3 Missile flight test today at White Sands Missile Range, NM. The test was an engagement against a tactical ballistic missile (TBM) target, which was intercepted and destroyed by a PAC-3 Missile delivered to the Japan Self Defense Force.
In 1998, North Korea sent a ballistic missile over Japan and into the Pacific Ocean. In 2008, North Korea is busy testing new missile engines, which makes Japan a bit nervous and ready for some ground to air missile intercepting. The US invited Japan's military to test their PAC-3 equipment at White Sands, which they did today.
A mock missile was intercepted from a distance of 75 miles or 120km. "The PAC-3 Missile provides combat proven hit-to-kill technology to protect the Warfighter with continued lethality overmatch against technologically advanced threats on today's battlefield," said Mike Trotsky, vice president - Air & Missile Defense Programs at Lockheed Martin Missiles and Fire Control. "We are particularly proud to celebrate the first FMS PAC-3 Missile test with our Japanese allies."
After dropping the bomb, the least we could do.
The flight test was conducted by Patriot Japan Air Self Defense Force. The test demonstrated the Patriot Configuration-3 upgrades to Japanese Patriot ground system, and the addition of the PAC-3 Missile Segment to detect, track, engage and destroy a TBM target in a realistic battlefield environment.
Lockheed Martin Missiles and Fire Control, Dallas, Texas, is prime contractor on the PAC-3 Missile Segment upgrade to the Patriot air defense system.

August 8, 2008
Thomas Berard, executive director of White Sands Missile Range since 2005, is going to switch to another desk at the Air Force Flight Test Center at Edwards Air Force Base, California in October.

August 7, 2008
Lockheed Martin has successfully completed testing of a key propulsion system component for the U.S. Missile Defense Agency's Multiple Kill Vehicle-L (MKV-L) payload. The divert thruster -- a component of the MKV-L carrier vehicle's divert and attitude control subsystem -- met performance requirements in a series of static, hot-fire tests at the White Sands Test Facility.

July 12, 2008
Japan will conduct its first test-firing of a land-to-air missile interceptor in the United States in September to ensure that a missile shield for the Japanese capital will function properly if it falls under attack, the Defense Ministry said.

The PAC-3 Patriot interceptor will be fired at White Sands Missile Range during the week of Sept. 15.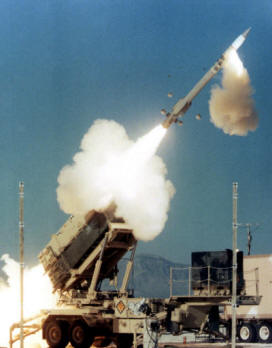 TESTING OF THE PATRIOT ADVANCED CAPABILITY MISSILE AT WHITE SANDS


June 24, 2008
The Navy was busy today, testing their new power tool, the Standard Missile 6, at White Sands Missile Range.

June 2, 2088
Arrival of the F-22A Raptor Jets. If you wanna see the pilots' eyeballs more closely check out the official Holloman Air Force Base Site. Amazing stuff. And now the noise makes sense as well. These guys are travelling at Mach 1.5, which translates to about 1,000 mph. It is rumored that eventually 40 Raptors will be stationed at Holloman. Let's embrace the sonic boom. By the way, complaints and reports of damage can be called in to the air force base public affairs office. Substantiated claims can be filed for reimbursement.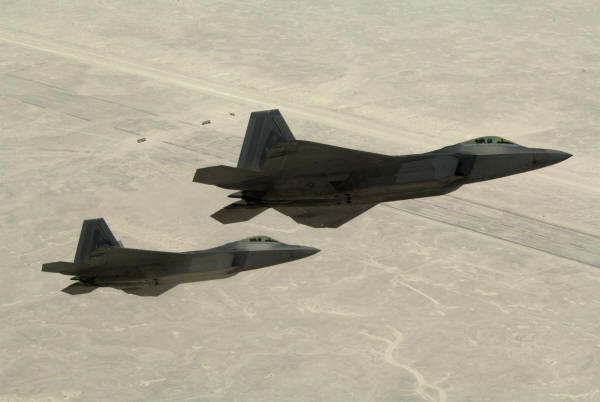 March 30, 2008
19th annual Bataan Memorial Death March at White Sands Missile Range - Here comes the military.com article:
Wounded Warriors led an all-time record of more than 4,400 marchers at the start of the 19th annual Bataan Memorial Death March at White Sands Missile Range March 30.

A total of 28 Wounded Warriors who served in Vietnam, Afghanistan and Iraq participated in the annual march, which honors a special group of heroes.

On April 9, 1942, about 75,000 Filipino and U.S. Soldiers were surrendered to the Japanese forces. The Americans were Army, Army Air Corps, Navy and Marines. Among those seized were members of the 200th Coast Artillery, New Mexico National Guard.

The prisoners were forced to march about 100 kilometers north to Nueva Ecija to Camp O'Donnell, a prison camp, in the scorching heat through the Philippine jungles.

Prisoners of war were beaten randomly and denied food and water for several days. Those who fell behind were executed. Thousands died. Those who survived faced the hardships of a prisoner of war camp. Others were wounded or killed when U.S. air and naval forces sank unmarked enemy ships transporting prisoners of war to Japan.

Read the entire military.com article...


March 4, 2008
If you're into sonic booms check Holloman AFB's info released beginning of March 2008.
Sonic Booms in local flying area

By Lt Col Linda Haseloff
Holloman AFB Public Affairs

Residents in the communities surrounding Holloman Air Force Base may notice a periodic sonic boom starting now through the end of April in preparation for the F-22 arrival. Holloman AFB is expecting its first two F-22 aircraft in June 2008.
The 49th Fighter Wing has developed a plan using T-38 aircraft to conduct supersonic flights to familiarize the local communities to sonic boom noise caused by supersonic flights. During the month of March, the T-38s will be flying three supersonic flights a week over Alamogordo, Tularosa, and Carrizozo. During the month of April, supersonic flights will begin over Cloud Croft and Ruidoso.
A sonic boom is an impulsive noise similar to thunder. It is caused by an object moving faster than sound, about 750 miles per hour at sea level. An aircraft traveling through the atmosphere continuously produces air-pressure waves similar to the water waves caused by a ship's bow. When the aircraft exceeds the speed of sound, these pressure waves combine and form shock waves which travel forward from the generation or "release" point thus creating the loud noise.
Flying tactics of the F-22 will cause an increase in the number of sonic booms heard in the local flying area. The Raptor's balanced design of maneuverable stealth, supercruise, and integrated avionics, allow it to go in virtually unnoticed and take out high-value targets both in the air and on the ground.
The F-22 gives us the ability to dominate in the air. Dominance in the air enables everything else that we do -- on land, at sea, or in the air.
If you have any questions on the sonic boom flights, contact the 49 FW Public Affairs office at 575-572-7406.
(End of AFB release.)
Future Combat Systems (FCS) was the word for 2007. Here is the official US Army article.


Sun-News photo by Norm Dettlaff

October 5, 2007 - Army Brig. Gen. Richard L. McCabe assumes command.

As already announced in March 2007, here comes the new commander.


September 9, 2007 - Solar Plane Zephyr Tested.

A British company tested a solar plane named Zephyr at the White Sands Missile Range and the thing is a keeper, it looks like. It flew 54 hours non-stop. Its wingspan is 59 ft or 18 m.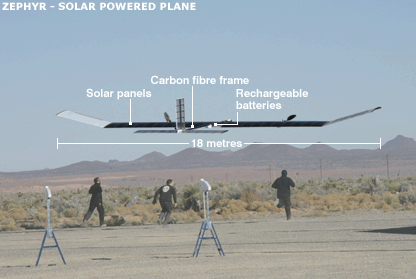 August 12, 2007 - Latest Addition to Hall of Fame.

The White Sands Missile Range Hall of Fame was established in 1980. The highest honor these guys can bestow on you is to make you a member.
And that's exactly what will happen to Joaquin Provencio on August 30. Mr Provencio joined the range in 1951 as a security guard and retired in 1985 as deputy director of security. He now lives in Las Cruces. Congrats to Jo and you can check out who else is a member of the Hall of Fame.

May 3, 2007 - More troops and money to come.

An Army combat engineer battalion, with as many as 750 soldiers, will be moving to White Sands Missile Range either next year or in 2009.

Currently, there are about a 400 military personnel — including Army, Navy and Air Force — at WSMR.

Army officials are also thinking about relocating a brigade combat team to WSMR. That could mean another 3,500 soldiers could be assigned there.

The Army has budgeted $71 million in military construction funding to adequately support the battalion at WSMR. The funding would be used to build barracks, a dining facility, and equipment maintenance facilities.

The $71 million would be included in the Army's 2008 fiscal year budget, which begins Oct. 1. Additional military construction funding would likely be made available in future years as needs for the battalion either changed or increased.


RICHARD L. MCCABE


March 24, 2007 - Army Brig. Gen. Richard L. McCabe has been appointed as commanding general of White Sands Missile Range, starting his job in August 2007.

McCabe becomes the 27th military commander at WSMR. McCabe is currently in Saudi Arabia where he is serving as program manager for the Saudi Arabian National Guard Modernization Program.


He is a former commanding general of the 32nd Army Air Missile Defense Command, at Fort Bliss, Texas. McCabe is expected to complete his assignment in Saudi Arabia in late August.

White Sands Missile Range has been without an Army officer in command the past 16 months, since Dec. 1, 2005 when former commander Brig. Gen. Robert J. Reese retired. Thomas Berard, the highest-ranking civilian at White Sands, has been serving as director of the Army test and evaluation facility since Reese's retirement. Berard is the first civilian to guide WSMR since it was established in 1945.


January 2007 - Hunter-Viper Strike system tested at the Range.

This picture below was taken in December 2006. The Range is pretty active, it seems. (Mobile phone picture. Never mind the low quality.)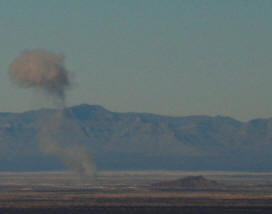 ACTION AT WHITE SANDS


To the best of our knowledge all information is current. If you should discover any errors, however, please let us know. Thanks!