Where is White Sands Located?

White Sands New Mexico
Photo: Tory Davis

| | |
| --- | --- |
| | CLOSEST TOWN IS ALAMOGORDO, NM |
White Sands is located in the Tularosa Basin in New Mexico, between the cities Las Cruces and Alamogordo.

The closest city is Alamogordo (see map.)
Couties: White Sands is situated in Otero County and Dona Ana County. See this map here.


Physical address of White Sands National Monument:
White Sands National Monument
19955 Highway 70, Alamogordo, NM
Latitude/Longitude of the Visitor Center:
32°40' N, 106°10' W
Mailing address:
P.O. Box 1086
Holloman AFB, NM 88330-1086
Visitor information via phone:
(575) 679-2599 or (575) 479-6124

Visitor information via fax:
(575) 479-4333
E-mail:
WHSA_Interpretation [at] nps.gov



And just in case you get lost... here is White Sands from space: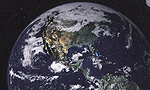 White Sands from Space
NASA
Click image to enlarge.
To the best of our knowledge all information is current. If you should discover any errors, however, please let us know. Thanks!