Nightlife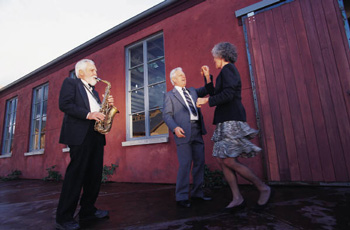 Yes, We Live in a Trailer but We Do Dress Up on Occasion


So you wanna know all about the fancy night clubs that are located around and close to White Sands National Monument?
Well, that's easy.
No such thing, there ain't none.

But why not enjoy yourself redneck style and have a tale to tell back home?

Grab the poison of your choice and relax under the endless New Mexican sky, surrounded by absolutely nothing.


If you have to socialize, here are some points of interest:
Alamogordo
Shooters - Food, drink, billiards, dancing
5201 Highway 70 W
(575) 443-6000
January 7, 2010 - Billy French is selling Shooters.
If you are interested in buying check with Coldwell Banker.

Ruidoso
WPS - Country & Western Bar, Live Music
2516 Sudderth Drive
(575) 257-9982

Quarters - Night Club & Grill
2535 Sudderth Drive
(575) 257-9535

Mescalero
Inn of the Mountain Gods - Resort and Casino

Las Cruces
Farley's Food, Fun & Pub - Bar/Club
3499 Foothills Rd
(575) 522-0466

Hoot-N-Annies - Live Music
150 E Madrid
(575) 525-8303
To the best of our knowledge all information is current. If you should discover any errors, however, please let us know. Thanks!