Hunting and Fishing


HUNTING AND FISHING IN NEW MEXICO
First off, here is the link to the New Mexico Department of Game and Fish.

As in most National Parks, hunting is not permitted within White Sands National Monument.

And if you were having an eye on the oryx population: There are growing concerns over hunters who hunt oryx in prohibited areas on the White Sands Missile Range.
However, there is a way to win oryx permits on the White Sands Missile Range, which is a once-in-a-lifetime license. Once you win the permit, kill or no, you can never apply again. Again, the folks at the Game & Fish Department will be happy to assist you with further information.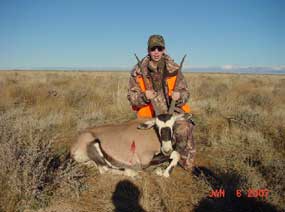 Hunter with legally taken oryx
Photo: Dept of game and fish

Alternatively, you could just patrol the roads that are close to White Sands Missile Range and wait for one of the antelopes to jump out. According to the September Otero County sheriff's logs, deputies responded to U.S. Highway 70 West, mile marker 206, in reference to an oryx in the roadway.

So you gotta beat the cops to it as well. Double challenge.
Fish wise, and just so that you know: A New Mexico Department of Game and Fish survey finds that tiger muskies average 35 inches long and 11 pounds in Bluewater Lake. The fish have been stocked in the lake since 2003 to reduce the number of white suckers and goldfish. Bluewater Lake is located between Gallup and Grants, roughly two hours from Albuquerque. This info is as of September 2008.
More tiger muskie fishery at newmexicomuskiesinc.org
To the best of our knowledge all information is current. If you should discover any errors, however, please let us know. Thanks!