Lake Lucero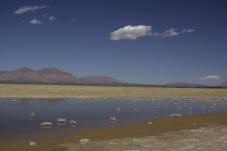 Lake Lucero
Photo: NPS

You are invited to join a ranger guided tour to Lake Lucero.
The tours are only once a month. They are guided tours because its access leads through military land.

Bring your camera, because you will be seeing amazing gypsum crystals in the old lake bed.
The name of the lake derives from Jose R. and Filipe Lucero. The Lucero brothers had their ranches close to the lake.
Learn more from the Cultural History of the Tularosa Basin. Here is an excerpt:
The two Lucero brothers, Jose R. and Filipe, who alternated as sheriffs of Doņa Ana county, built neighboring ranches on the west side of the old salt lake, giving it its modern name.

Many other notable historic figures homesteaded and ranched this newly opened Tularosa country, including Pat Garrett, cowboy poet Eugene Rhodes, and Oliver M. Lee, whose Circle Cross Ranch became the largest in New Mexico.
Don't forget to bring sun protection and your comfy shoes.
Are dogs allowed at Lake Lucero?
Dogs are allowed at Lake Lucero as long as they are friendly, kept on a leash, and picked up after.
Thank you, Scott, for asking, and thanks to the staff at White Sands for answering.



To the best of our knowledge all information is current. If you should discover any errors, however, please let us know. Thanks!