White Sands & the Movies

White sands
Photo: Tory Davis

The 2011 White Sands International Film Festival will be held August 25-28, 2011.
If you need assistance with your filming permission at White Sands, go here.



The following movies have been filmed at White Sands.

Click on the link to get IMDB info.

All movies sorted by year of release.
2009 The Men Who Stare at Goats

George Clooney and Ewan McGregor at White Sands - The Men Who Stare at Goats
The set of the 2009 Transformers sequel Transformers: Revenge of the Fallen is closed. Release date is June 2009.
September 27, 2008 - Tyrese Gibson throws wrap-up party at the Inn of the Mountain Gods. Tyrese is excited about his role in Part II: "I was three ranks down in my Air Force league in the first round, and now I'm master sergeant. I've got a lot more to say, a lot more air strikes to bring in. My coms and my cadence is on a whole other level." - Read entire interview here

September 22, 2008 was Transformers II Family Day at Holloman Air Force Base. AirForceTimes reports:
Several prop vehicles used in the movie were displayed on base. Rolled into Hangar 500 were the Chevrolet Camaro that changes into the Transformer Bumblebee, a mockup of Bumblebee himself and semi-truck that morphs into Optimus Prime.

About 200 airmen from Holloman worked off-duty as extras for "Transformers: Revenge of the Fallen" while filming was done at Holloman and the adjacent White Sands Missile Range.

Also involved the filming were six F-16 Fighting Falcons flying low-level mock attacks.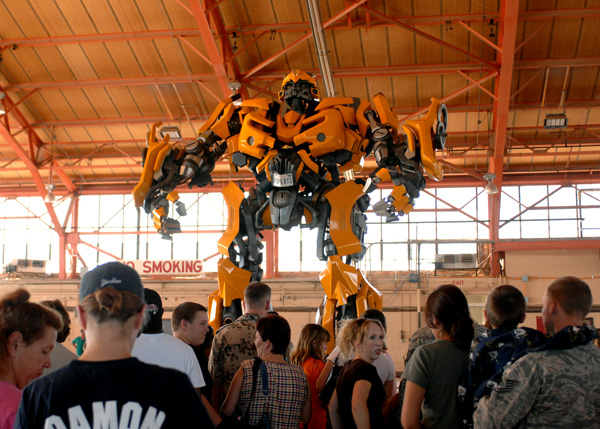 Members of the Holloman community look at Optimus Prime, a character in the Transformers 2 movie, in Hangar 500 at Holloman Air Force Base, N.M.
U.S. Air Force photo/Airman 1st Class Veronica Salgado
Correction: It's not Optimus Prime, it's Bumblebee. Thanks David for pointing this out.
Read all about it and find more pictures on the Holloman website.


Here is a shot of the set of the 2009 movie Year One featuring Jack Black and crew.


Alien attack at White Sands
Tyrese Gibson, left, and Josh Duhamel, right, are attacked by an alien race.
This scene was filmed at White Sands, N.M. in 2006.
DreamWorks Pictures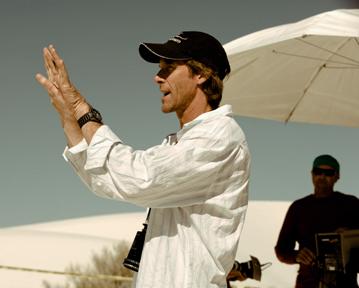 Director Michael Bay on location at White Sands 2006
DreamWorks Pictures

Sam Mendes, Jake Gyllenhaal, Peter Sarsgaard at White Sands - Jarhead

Mega Action at White Sands - My Name is Nobody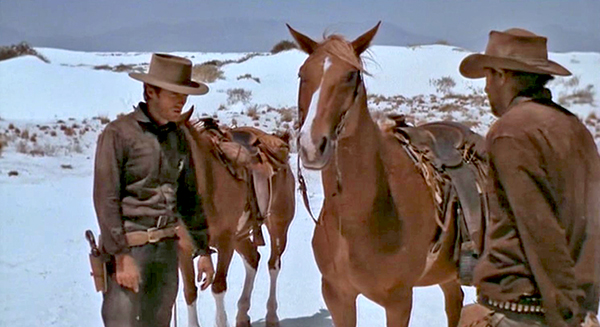 Clint Eastwood (left) at White Sands in the 1968 Movie Hang 'Em High
To the best of our knowledge all information is current. If you should discover any errors, however, please let us know. Thanks!