White Sands News


WHITE SANDS FLOODED IN APRIL 2007
Photo: Tory Davis



The National Park Service informs:

Park Closures

Due to missile testing on the adjacent White Sands Missile Range, it is occasionally necessary, for visitor safety, to close the Dunes Drive for periods of up to three hours. The park Visitor Center and Gift Shop remain open during missile range closures. Visitors on a tight schedule should contact the park the day before arriving to check on closures (575) 679-2599.
U.S. Highway 70 between White Sands National Monument and Las Cruces may also be closed during times of missile testing. For US 70 closure information, call (505) 678-1178.
All closures are subject to change without notice.
October 2, 2011 — White Sands Visitor Center Gets Makeover

New exhibits catch the interest of young and old. Enjoy watching the clip "A Land in Motion" in HD. Didn't know about the tropical sea that once covered the area? What? Sharks once cruised across New Mexico?
Come and visit White Sands National Monument Visitors Center.
Habla espaņol? Bring your abuela, stay tranquilo, and enjoy all displays because todo is bilingual.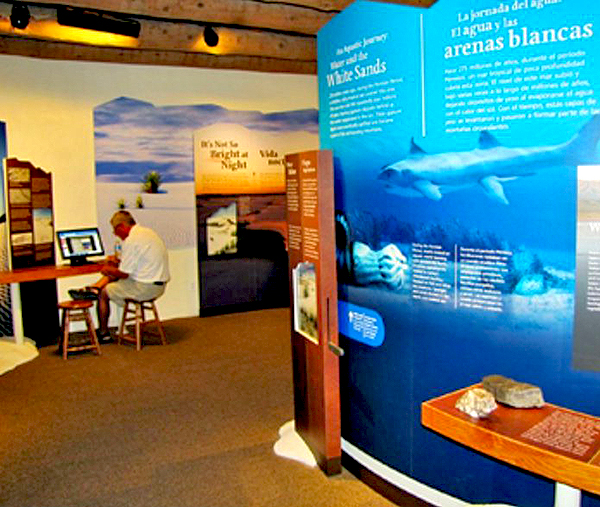 New Exhibits: White Sands Visitor Center
Photo: NPS

December 29, 2008 — Don't visit White Sands National Monument on the morning of this Monday because it will be closed from 9 until 1pm. The reason? The Monument will get a new entrance.
Come at 1 pm and you will be fine.
April 21, 2008 — White Sands National Monument has a new superintendent. Kevin Schneider starts his new job in mid-May. Read more about Kevin here.

KEVIN SCHNEIDER
NEW SUPERINTENDENT AT WHITE SANDS
June 15, 2007 - No more flooding. The entire park is open to visitors again.

Check visiting hours and fees ON the park's official site.

May 2, 2007 - There seems to be more in store for the Sands, weather wise.

This nice tornado has been spotted today: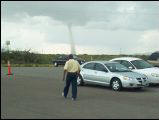 Funnel cloud over White Sands
Photo: Jo Dell Vaughn
April 2007 - Part of the Monument is still closed off due to flooding.
However, you are still able to visit and see quite a bit. See map below for the closed off section.
It looks that the heavy rainfall in August 2006 raised the water table and the water is still seeping up. This keeps the ground too
mushy to drive on.
For an update call (575)-679-2599. Here's the area that was closed of in April 2007:


WHITE SANDS CLOSED OFF AREA - MARCH 27
The fine folks at White Sands National Monument were so kind to answer a few questions you might have regarding the flooding:

How much of the Park is closed at this time?
Right now, 2/3 of the picnic loop is under water, or covered in very wet gypsum, similar to mud in consistency.
When did the flooding trouble start?
Much of the flooding began in the wake of heavy rains we received in August 2006. In that month, we received about 12 inches of rain. Flooding in one picnic area has been present since late June 2006.


Has it flooded this badly before? When?
The last time the picnic loop was under water was in the winter of 1992 following heavy rains in December 1991. Flooding conditions lasted until Easter 1992. As a matter of record, 2006 was the wettest year for White Sands since 1941.


What can be done to prevent it from happening again?
Nothing. White Sands lies at the lowest point of the Tularosa Basin. The basin has no outlet for the water it receives, so the water that falls within the basin and its surrounding mountains stay here. The water then flows, both above and below ground, to the lowest point. The ground under the dunes consists of clay, about 25 feet below the surface, so the water cannot be absorbed or pumped somewhere else, it must evaporate.


When is the situation expected to get back to normal again?
The best guess we can give, based on the rate of evaporation and repair to the surface, is mid summer 2007. Moreover, that assumes a normal monsoon season.

---
To the best of our knowledge all information is current. If you should discover any errors, however, please let us know. Thanks!