Otero County

Sierra Blanca
Photo: Rob Roberts

The highest elevation in Otero county is Sierra Blanca with 11,997 feet (3,656 m).
See this map here:
Here is a map of the counties in New Mexico:

County Map New Mexico
The University of New Mexico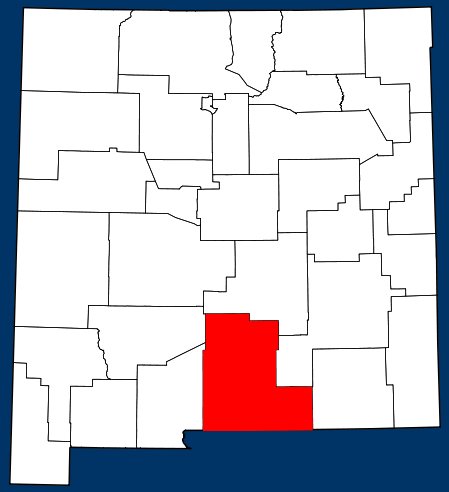 Map Location Otero County, New Mexico
Wiki
The oldest permanent settlement in the county is La Luz, where a Franciscan mission was established in 1719. You will find La Luz between Alamogordo and Tularosa.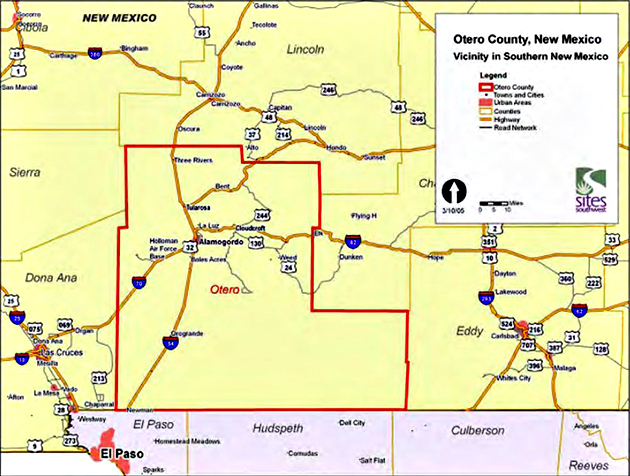 Otero County, New Mexico — Vicinity in Southern New Mexico
Otero County.us
Otero County was established in 1899. County seat is Alamogordo.
This is the link to Alamogordo Chamber of Commerce. And this is the link to the City of Alamogordo.
And this link here tells you how healthy it is to live in Otero County. Please note that obesity gives us more headaches than substance abuse.
The main attractions in Otero County are:
Lincoln National Forest (think Smokey the Bear)

The historic town of Lincoln (think Billy the Kid)

Cloudcroft (think skiing and golfing)

Sunspot (think National Solar Observatory and Apache Point Observation)

Valley of Fire (think lava)

Inn of the Mountain Gods on the Mescalero Reservation (think hunting, fishing, and casino)

Ski Apache

Three Rivers Petroglyph National Recreation Site (here is the BLM page for Three Rivers)

and of course White Sands.
Here is the official Otero County website.

The Otero County Economic Development Council also provides you with good information.


To the best of our knowledge all information is current. If you should discover any errors, however, please let us know. Thanks!