How to Get Here

White Sands, NM
Photo: Tory Davis

Closest city to the Sands is Alamogordo. Distance: 15 miles / 25 kilometers. No public transportation serves the park. Here are your options:
BY CAR

The missile range often sets roadblocks on public roads. Check here for possible roadblocks.

White Sands Missile Range advises to check for roadblocks right before leaving to ensure nothing has changed.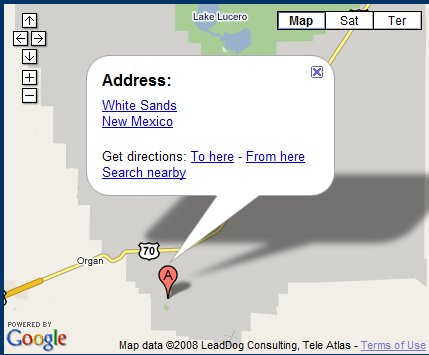 MAP TO WHITE SANDS NEW MEXICO
ZOOM IN AND OUT OF MAP


And here is another Google map showing the way from Alamogordo - El Paso Map and Directions


BY BUS
Greyhound Lines: The closest location to White Sands, NM, Greyhound Lines serves is Alamogordo, NM. If you don't like to hike the final 15 miles to the Monument, you could rent a car in Alamogordo or take a cab. (Last time I checked, the Dollar Cab's phone number was (575) 434-8294.)

Greyhound fares and schedules are date specific and subject to change. Seating is first-come, first-served. In case of insufficient seating capacity, passengers will be placed on succeeding schedules that have available seats. Due to the fact that Greyhound does not accept reservations, please arrive at the station one hour prior to scheduled departure, depending upon its hours of operation. If you will be checking baggage, please visit the counter in advance of the scheduled departure time.

If the location you are leaving from is closed at the time of departure or you are leaving from a flag stop location, we recommend arriving 30 minutes prior to departure.

If you have any further questions, please feel free to contact Greyhound Lines via their website.

BY PLANE & SHUTTLE
The closest international airport is El Paso (ELP), TX, which is approx. 85 miles from the monument. A shuttle service to Alamogordo is available.
Alamogordo - El Paso Shuttle
1021 S. White Sands Blvd.,
phone 1-800-872-2701 or (575) 437 1472


Depart Holloman AFB

Depart Alamogordo

Arrive El Paso

Trip A

--

5.00 AM

6.30 AM

Trip 1

6.45 AM

7.15 AM

9.00 AM

Trip 2

9.30 AM

10.00 AM

11.45 AM

Trip 3

1.15 PM

1.45 PM

3.30 PM

Trip 4

5.00 PM

5.30 PM

7.15 PM

Depart El Paso

Arrive Alamogordo

Arrive Holloman AFB

Trip B

8.45 AM

10.15 AM

10.30 AM

Trip 1

11.00 AM

12.45 AM

1.00 PM

Trip 2

2.00 PM

3.30 PM

3.45 PM

Trip 3

5.15 PM

7.00 PM

7.15 PM

Trip 4

8.15 PM

10.00 PM

10.15 PM


One way and round trip tickets available.
Call above phone number to check current ticket fees.

PRINTER FRIENDLY VERSION



BY TRAIN
El Paso is the closest you can get by train because Alamogordo doesn't have a public transportation train station.

Alamogordo-White Sands Regional Airport
The Alamogordo-White Sands Regional Airport is a general aviation airport owned and operated by the City of Alamogordo. The City owns the terminal building, maintenance shop, fire station and 1500 acres of fenced in property. The Airport employs two personnel, Bradley Parker, Airport Coordinator, and Bill Reed, Airport Maintenance.

LOCATION:
Five miles west of Alamogordo on Airport Road

PHONE:
575-439-4110 or 575-430-6513 Maintenance

HOURS:
7:00 am to 6:00 p.m. seven days a week (except Christmas/New Years)
CO-ORDINATES:
Lat: 32' 50" N Long: 105" 59" W.
Elevation is 4197'.


There are two runways. Runway 21/3 is paved for 7005' and Runway 16/34 is a dirt runway. The airport has a scheduled air carrier: Mesa Airlines. The airport is a designated United States Forest Service fire tanker base which is operational between April and June annually. Facilities include: Gas, Jet, A & P and hangar space. AWOS 127.82 and telephone number 575-439-4112. Traffic pattern altitude 5197'.
November 20, 2009 - New Mexico Airlines will fly you for another two years at least. The US Department of Transportation has renewed their contract to provide commercial air service to Alamogordo. You will benefit from two round trips each weekday and three round trips over each weekend to Albuquerque's international airport.
January 30, 2009 - New Mexico Airlines offers daily flights from Alamogordo to Albuquerque and to El Paso. Airfare depends on where you book your ticket, the cheapest is apparently $49 for a ticket to El Paso and $86 for a ticket to Albuquerque. You'll lift off in a Cessna Grand Caravan alongside two pilots and another eight passengers. Check out New Mexico Airlines.

May 11, 2007 - Alamogordo's regional airport is excited to get some financial support. Sen. Jeff Bingaman's office, the U.S. Department of Transportation has agreed to give Alamogordo $532,810 to replace and improve lighting and to replace the airport's rescue and firefighting equipment.
June 9, 2007 - Mesa Airlines will suspend their services as soon as Alamogordo has found a new air carrier. If you have a fleet of small planes at your disposal chances are the City of Alamogordo would like to talk to you.
August 27, 2007 - Looks like New Mexico Air is going to be the new air carrier for Alamogordo.
September 26, 2007 - That's right. Pacific Wings LLC, an airline from Hawaii, got the contract. Operating as New Mexico Airlines, they will offer 12 weekly nonstop round trips Alamogordo - Albuquerque. The company is also serving Carlsbad, Hobbs, and Santa Fe. You can book through their website. Service starts in November.
November 10, 2007 - The EAA 251 White Sands Chapter Alamogordo New Mexico moved in. They are leasing a hangar from two of their members. If you are into flying you should check out their website, because these guys can tell you how to build a plane from scratch.
To the best of our knowledge all information is current. If you should discover any errors, however, please let us know. Thanks!