What to Do at the Sands



White Sands Visitors Center
Photo: Tory Davis

What can you do at the Sands besides taking pictures of amazing dunes?
SAND SLEDDING
In the gift shop, located directly behind the Visitors Center, you can purchase your sand sleds.


SAND SLEDDING

And this is how it's done:
Or why not try sandboarding: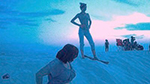 Sandboarding in New Mexico
Credits: Jeane Keas
PICNIC IN THE DUNES
There are three picnic areas at White Sands. Each one of the 45 tables is equipped with a grill.


PICNIC AREAS AT WHITE SANDS
Photo: Tory Davis

PICNIC AREA IN THE MORNING AT WHITE SANDS
Photo: Rob Roberts


CAMPING AT WHITE SANDS
The permit for the Spartan backcountry campsite at White Sands (no water or toilet facilities) goes for $3 per person.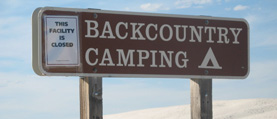 CAMPING AT THE SANDS
Photo: Tory Davis


WHITE SANDS FOR KIDS
The monument is ready for the little visitors. Check the official NPS link - White Sands for Kids.


RANGER GUIDED TOURS
Ranger guided tours are held every evening throughout the year, except when staff is not available. On your Sunset Stroll, which is less than a mile long, you will learn about geology, plants, and animals of White Sands. Check Sunset Strolls
You can go on your own guided tour. Circa 4 miles or 7 kilometers into the dunes you will find a boardwalk with educational signs and explanations along its way. The boardwalk is fully wheelchair accessible.

BOARDWALK INTO WHITE SANDS
Photo: Rob Roberts

WATCH THE STARS
White Sands National Monument has various astronomy events scheduled. Check schedule

MOONLIGHT BICYCLE RIDES
Twice a year, White Sands offers moonlight bicycle rides. You will have to call in to make reservations in advance. For the dates of upcoming bicycle rides and where to call to make reservations check here.

HIKING IN THE DUNES
Hiking in the dunes is an amazing experience. However, make sure you bring enough water. A gallon per person is advised. Also, the surrounding mountains are a good help for orientation in case you didn't bring a compass. Sun glasses and sunblock are recommended.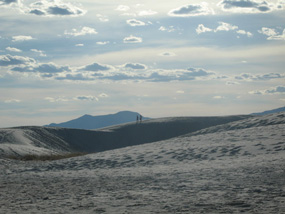 HIKING AT WHITE SANDS
Photo: Tory Davis

Did anybody ever get lost out in the Sands?
They sure did.
Friday, Nov 13, 2009 - 8pm and the phone rings at the Alamogordo Border Patrol station. It's the White Sands monument staff asking for help in locating two park visitors. The Otero County Sheriff's Office and emergency medics chimed in and after seven hours the two were found safe and sound but a bit dehydrated three miles northeast of the command post.
In 2007, a photographer became lost while looking for a place to take pictures. He was found safe the next morning.

In 2002, a Japanese citizen became lost while photographing the sands. He died from severe dehydration.
Famous disappearances in history:
In 1898, Judge Albert J. Fountain most famously vanished at White Sands together with his eight year-old son Henry. They just disappeared. Three men were brought to trial for murder in Hillsboro, New Mexico, but weren't found guilty. Nobody has a clue what really happened. In fact, people today speak of the Fountain Mystery.

The National Park Service advises:

Most of the people who become lost at White Sands were not intending to hike, and thus were not prepared for an extended stay in the dune area. We have signs and advisories in our brochures that all should remain aware of their surroundings and carry adequate amounts of water with them when venturing from developed areas within the Monument.

Few people (about 10 each year) are reported lost within White Sands. People should always remember to stay within sight of developed areas or other people if their intentions are not hiking related.
WEATHER AT WHITE SANDS
If you're wondering whether or not to bring that extra sweater of yours, check out what kind of weather to expect.

And here you can check the year-round weather at White Sands:

January
Normal High: 57°F
Normal Low: 33°F
Normal Average: 45°F

February
Normal High: 64°F
Normal Low: 38°F
Normal Average: 51°F

March
Normal High: 70°F
Normal Low: 43°F
Normal Average: 57°F

April
Normal High: 78°F
Normal Low: 51°F
Normal Average: 64°F

May
Normal High: 86°F
Normal Low: 60°F
Normal Average: 73°F

June
Normal High: 96°F
Normal Low: 69°F
Normal Average: 82°F

July
Normal High: 94°F
Normal Low: 72°F
Normal Average: 83°F

August
Normal High: 92°F
Normal Low: 70°F
Normal Average: 81°F

September
Normal High: 87°F
Normal Low: 64°F
Normal Average: 76°F

October
Normal High: 78°F
Normal Low: 52°F
Normal Average: 65°F

November
Normal High: 65°F
Normal Low: 40°F
Normal Average: 53°F

December
Normal High: 57°F
Normal Low: 33°F
Normal Average: 45°F
To the best of our knowledge all information is current. If you should discover any errors, however, please let us know. Thanks!