NASA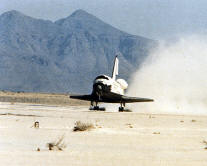 Space Shuttle Columbia Landing at WSSH, 1982
Photo: NASA

The National Aeronautics and Space Administration (NASA) was established in 1958.

WHITE SANDS TEST FACILITY

Since 1963, NASA operates the White Sands Test Facility. Its address is:

NASA-White Sands Test Facility, 12600 NASA Road, Las Cruces, NM 88012
WHAT'S HAPPENING AT THE WHITE SANDS TEST FACILITY?
Potentially hazardous materials, spacecraft materials, and rocket propulsion systems are being tested and evaluated. These services are also available to governmental and commercial customers.
If you're interested in working for NASA, check this link with current job openings.

White sands space harbor
The White Sands Space Harbor (WSSH) is operated by the White Sands Test Facility. The Space Harbor is located on the U.S. Army White Sands Missile Range.
Here is the map location of White Sands Space Harbor.

White Sands Space Harbor
Photo: NASA



WHAT'S HAPPENING AT THE WHITE SANDS SPACE HARBOR?
WSSH is the training area for space shuttle pilots. Check out the White Sands runways.
WSSH is also an optional harbor for space shuttles.
This graphic below was featured by USA Today in December 2006. After much suspense about the landing site, Discovery finally came down in Florida.
FINAL MISSION OF THE SPACE SHUTTLE - LANDING OF ATLANTIS
Space shuttle Atlantis had lift-off at Kennedy Space Center on July 8, 2011 and landed, for the final time, also at Kennedy Space Center Florida, on July 21, 2011 at 5:57 a.m.
This is also the final event for the log-book at White Sands Space Harbor.
What's going on?
After 30 years of spaceflight, NASA's space shuttle fleet will retire, and WSSH will be decommissioned. Here you can read What's Next for NASA?
UP TO DATE WITH SPACE SHUTTLE
October 30, 2008 - More than 60 members from Holloman Air Force Base, White Sands Missile Range and the National Aeronautics and Space Administration (NASA) came together for a shuttle emergency landing exercise at the White Sands Space Harbor.
This training, consisting of classroom briefings and the actual exercise, is conducted on Holloman once a year.
White Sands Missile Range, N.M., is one of many designated emergency shuttle landing areas across the world and Holloman maintains a contingency response force to respond for the first 24 hours before more help can arrive.
The next space shuttle mission is scheduled to start November 14, 2008, with the scheduled launch of space shuttle Endeavor.



NASA AND VIRGIN GALACTIC
February 21, 2007 - NASA officials signed a memorandum of understanding Tuesday with a U.S. company, Virgin Galactic, LLC, to explore the potential for collaborations on the development of space suits, heat shields for spaceships, hybrid rocket motors and hypersonic vehicles capable of traveling five or more times the speed of sound.
More about Virgin Galactic's Spaceport at White Sands.
NASA AND CENTENNIAL CHALLENGES
Centennial Challenges is NASA's program of prize contests to stimulate innovation and competition in solar system exploration and ongoing NASA mission areas.
And here's a list of upcoming NASA competitions.
NASA AND THE ORION PROJECT
NASA thinks the moon was a good idea after all and their website announces that "America will send a new generation of explorers to the moon aboard NASA's Orion crew exploration vehicle."
And this is a picture of the Orion crew vehicle: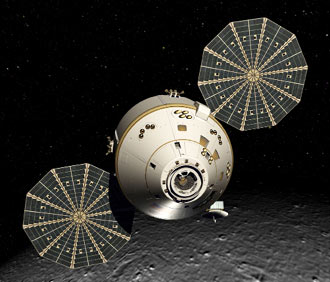 ORION LUNAR VEHICLE

Part of the Orion Project is the Orion launch abort system (LAS), an escape rocket designed to ensure the safety of the crew in the event of a launch vehicle malfunction while on the launch pad or during ascent to orbit.
The LAS will drag the command module away from a potential hazard just like an ejection seat. If the crew needs to escape from a mishap of any kind on the pad or during launch, all they do is hit a button and it will take them about one mile away from whatever is going wrong.
In a pickle during launch and no time to hit buttons? NASA got it all covered and proposes four different aborts, which are labeled according to the different launch stages in which they might occur (Mode I to IV aborts).
Lockheed Martin is NASA's prime contractor for the Orion Project, but a gazillion other subcontractors and businesses are also involved.
NASA has planned a series of ground and flight tests for the launch abort system over the next few years leading up to Orion's first crewed flight to the International Space Station scheduled for the year 2015.
The exiting thing is that it will be tested at NASA's White Sands Test Facility.
UP TO DATE WITH THE ORION PROJECT
June 16, 2009 - Lockheed Martin announces today that two launch abort system motors are now in place at White Sands Missile Range ready for Pad Abort 1.

March 3, 2009 - A full-scale mock-up of NASA's Orion launch abort system began a week-long flatbed trailer ride across the country Tuesday, en route to White Sands Missile Range in New Mexico. Once at White Sands, the rocket-like structure will help NASA prepare for this year's abort system test, called Pad Abort 1.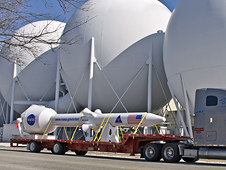 The launch abort system pathfinder hit the road on Tuesday from NASA Langley in Hampton, Va., and is on its way to White Sands Missile Range in New Mexico.
During its journey, the LAS pathfinder visited museums along the way. It visited New Mexico Museum of Space History in Alamogordo, N.M., on Monday, March 9.
NASA quoted, "The first of five planned abort tests is scheduled from the new pad on Sept. 23, 2008. Two of the tests will evaluate the performance of the launch abort system at ground level. Three more tests will evaluate its performance at different altitudes."

November 14, 2007 - The Orion Project is on its way. Today was the ground-breaking ceremony for the launch pad at White Sands Missile Range.
To the best of our knowledge all information is current. If you should discover any errors, however, please let us know. Thanks!