What Else to Do in the Area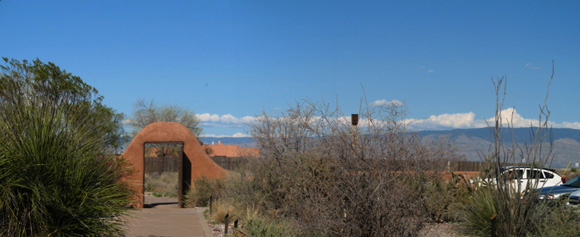 White Sands Visitor Center Parking Lot
Photo: Tory Davis

There is plenty to see and do in the area. Here are some suggestions:
TRINITY SITE
Twice a year you can visit Trinity Site where the first atomic bomb exploded in 1945.


Trinity Site explosion, .016
seconds after explosion,
July 16, 1945
Los Alamos National Laboratory

View more Trinity Site photos

Trinity Site is open to the public each year the first Saturday in April and the first Saturday in October. Check events schedule for the next Trinity Site Tour.
NEW MEXICO MUSEUM OF SPACE HISTORY
The NM Museum of Space History in Alamogordo officially celebrates the spirit of space exploration.
You can check out some basalt moon rock or pay homage to Ham the Astrochimp and visit his grave there. In 1961, chimpanzee Ham became the first hominid in space. HAM = an acronym for Holloman Aero Medical.

SpaceChimp HAM
And while we're at it:
Here you can read more on famous animals in history.

Back to the NM space history museum.
Also on display are the Little Joe II rocket which tested the Apollo emergency capsule ejection system at White System Missile Range, some trinitite from the world's first atomic bomb test on July 16, 1945, at WSMR, and the moon hemisphere sculpture that hung behind CBS newsman Walter Cronkite on July 20, 1969, when Neil Armstrong walked on the moon.
Those were the days.
On October 5, 2008, the New Mexico Museum of Space History celebrated its 32nd anniversary.
The New Mexico Museum of Space History is a division of the NM Department of Cultural Affairs. For more information, call 575-437-2840, toll free 877-333-6589 or visit www.nmspacemuseum.org.

Top of Hwy 2001, Alamogordo, NM 88310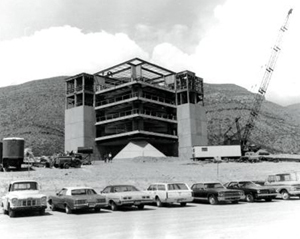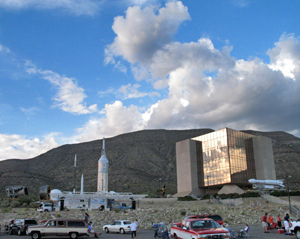 NEW MEXICO SPACE MUSEUM 1976 AND 2007
Photo Left: Courtesy NMMSH - Photo Right: Tory Davis
ALAMOGORDO MUSEUM OF HISTORY
You can visit the Alamogordo Museum of History 7 days a week, admission is free.

ALAMEDA PARK ZOO
Then there is Alameda Park Zoo in Alamogordo, NM.

The Alameda Park Zoo recently added the White Sands Pupfish to their list of hosted animals. You can study about 30 animated pupfish in a 75 gallon tank.

| | |
| --- | --- |
| | I know you care about the White Sands Pupfish, and so do I. Luckily, the Department of Game & Fish provides us with a White Sands Pupfish info sheet. Knock yourselves out with the following pupfish links: |
What's the big deal about the White Sands Pupfish? It's the only fish species native to the Tularosa Basin. In other words, these little guys know how to live in tiny bodies of water that are salty as all get out.

DESERT LAKES GOLF COURSE
Desert Lakes is a quality public facility that is located at the base of the Sacramento Mountain range. The course features four sets of tees to cater to all levels of play.


DESERT LAKES GOLF COURSE - ALAMOGORDO - NEW MEXICO
Photo: Desert Lakes Golf Course

The front nine is a tree-lined, parkland-style layout that highlights large greens with subtle undulations. The back nine, "the desert nine", is cut out of the southern New Mexico desert. The course also features numerous water hazards that come into play on eleven of the eighteen holes.
Alamogordo delights in year-round golf, with summer highs in the 90's and moderate winter temperatures. More here.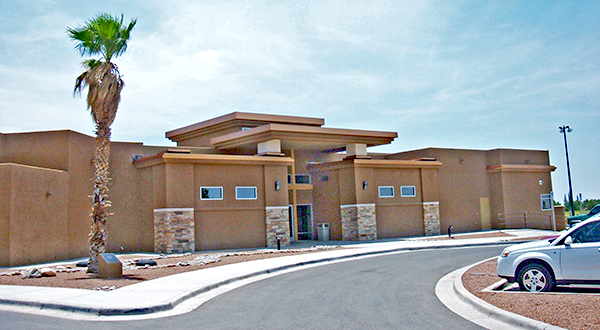 DESERT LAKES GOLF COURSE - CLUBHOUSE - ALAMOGORDO - NEW MEXICO
Photo: Allen

OLIVER LEE MEMORIAL STATE PARK
Oliver Lee Memorial State Park is located 8 miles south of Alamogordo on U.S. Highway 54 and 4 miles east on Dog Canyon Road.
For more information about Oliver Lee Memorial State Park call 437-8284.
And here you can make your reservations for RV camping etc.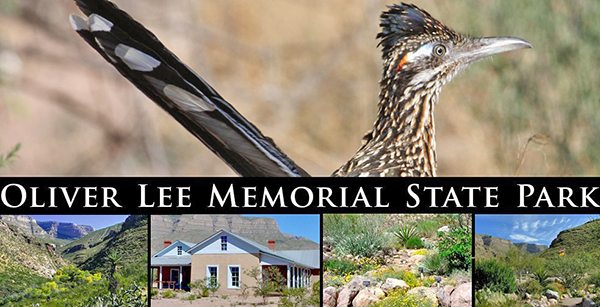 OLIVER LEE MEMORIAL STATE PARK - ALAMOGORDO - NEW MEXICO
Photo: Oliver Lee Memorial State Park



NATIONAL SOLAR OBSERVATORY
National Solar Observatory in Sunspot, New Mexico, is located 36 miles from Alamogordo. A shuttle service is available, see visitor information.
HIKING

The Alamogordo Daily News gives you in their March 24, 2007 issue the directions to the Grand View Trail that offers spectacular Basin views.

We quote:

When trails at higher elevations are still icy and snow-covered, hikers may find the Grand View portion of the Cloud Climbing Rail Trail to be particularly inviting.

Here the old railroad bed winds through piņon and juniper to Grand View Curve, which offers spectacular views of the Tularosa Basin, the White Sands and the San Andres Mountains.

At this overlook New Mexico Rails-to-Trails Association members have erected a shelter, and a sign that identifies such landmarks as Lake Lucero, Trinity site, and 8958 foot high Salinas Peak, the highest point in the San Andres Mountains. Other signs on the trail show birds and animals of the region, including the greater roadrunner and the bobcat.

To reach the Grand View Trail from Highway 82, turn north on Cherry Way in High Rolls, left on Cottage Row, and right on Fresnal Canyon Road.

The upper end of the trail is on the left at half a mile, the lower end on the left at 0.9 mile.

Park at the lower end and climb a stile over a fence; when you reach the upper end of the trail return to your car by way of Fresnal Canyon Road for an easy stroll of 1.7 miles.



MEXICAN CANYON TRESTLE
And this from the Lincoln National Forest Service:
The Mexican Canyon Trestle located just north-west of the Village of Cloudcroft is one the areas historical gems.

Reaching back to days when horse and carriage ruled the roads and steam engines whistled up the mountain, this community treasure is being restored and preserved for future generations.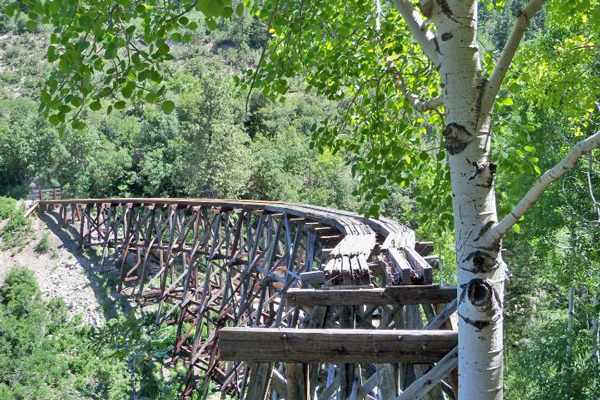 Mexican Canyon Trestle
Lincoln National Forest Service

Go here for more about the Mexican Canyon Trestle
And here is the NM Rails-to-Trails Association
IS THERE MORE?
Absolutely! Check out our nightlife tips and Otero County's main attractions.
If you are still searching for more, you will find more local attractions via the Chamber of Commerce site.


To the best of our knowledge all information is current. If you should discover any errors, however, please let us know. Thanks!