About Gypsum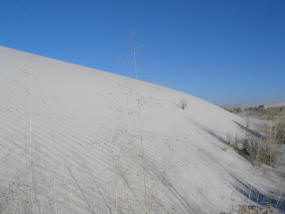 Gypsum Dunes at White Sands
Photo: Yvette Lacroix

There wouldn't be a White Sands National Monument if it weren't for all that gypsum. And if you like versatile, gypsum is the mineral of your choice.
Gypsum is a key ingredient in cement, plaster, and drywall.
Scroll down to learn how gypsum can make you money.
WHAT IS GYPSUM?

The English word gypsum comes from the Latin word gypsum. Which is boring so far BUT the Latin word comes from the Greek word gypsos. Which is exciting, because it means "chalk."

The chemical formula for gypsum is CaSO4 · 2(H2O)

The formula tells you that gypsum is just a bunch of hydrated calcium sulfate.
Gypsum can look a variety of ways. Some of the synonyms for gypsum are: selenite, satin spar, and alabaster.
WHAT IS SELENITE?
Selenite is another word for crystallized gypsum. In other words, selenite is gypsum at its prettiest. Here you can learn more about the unique gypsum crystals in Oklahoma, provided by the US Fish & Wildlife Service.
WHAT IS SATIN SPAR?
Satin spar is another word for gypsum in its fibrous form. More info and a funky picture of satin spar is provided by the University of Texas. If you are into jewelry, satin spar is how you like your gypsum best.
WHAT IS ALABASTER?
Alabaster is another word for fine grained gypsum. It is valued as material for sculpting.
BUT WHY "PLASTER OF PARIS?"
Good question! Gypsum in form of white powder is called Plaster of Paris. You can make gypsum look like that if you heat it up 150 degrees Celsius and thus withdraw all the water.
The Online Etymology Dictionary informs us that Plaster of Paris "originally was made from the extensive gypsum deposits of Montmartre in Paris." And here is the link to the Artists Association of Montmartre, which has very little to do with the subject.
CRYSTALLIZATION
When gypsum crystallizes it takes in whatever the environment surrounds it with. If there's a lot of mud or iron around, for example, the crystals will look brownish. Depending on the area they can also look white, yellowish, or greenish. Without these impurities gypsum crystals look crystal clear.
WHERE DO I FIND GYPSUM?
Mindat.org informs you that,
"gypsum is found in marine evaporites, in caves where the air is dry enough to allow it to be deposited and remain, at fumaroles, and in the oxidized zones of sulfide deposits on occasion."
Gypsum is found all over the world. The Braden Mine in Chile became famous when these guys there found a gypsum crystal that was about 10 feet (3 meters) long and about 1.5 feet (0.4 meters) in diameter. Find out more about the Sewell Mining Town provided by UNESCO.
Hard to top? Sure. But then people stumbled upon some killer crystals that were 36 feet (11 meters) long, see picture below. The location was a cave in the Chihuahuan desert in Mexico, 950 feet (290 meters) below. Read the BBC article in English. Read the BBC article in Spanish.
And here is more about the Chihuahuan Desert.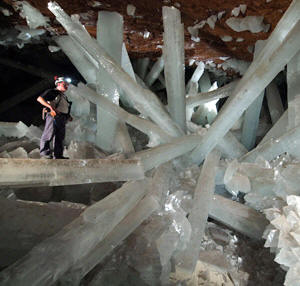 GYPSUM CRYSTALS IN CUEVA DE LOS CRISTALES, MEXICO
Photo: Javier Trueba



WHAT CAN YOU DO WITH GYPSUM?
Encyclopedia Britannica tells you that,
"crude gypsum is used as a fluxing agent, fertilizer, filler in paper and textiles, and retarder in portland cement. About three-fourths of the total production is calcined for use as plaster of paris and as building materials in plaster, Keene's cement, board products, and tiles and blocks."
Voila.
And then there's asbestos.
GYPSUM TRIVIA
Believe it or not, there exists the GPDA, which stands for Gypsum Products Development Association, located in London. Those guys try to "develop and encourage the understanding of gypsum based building materials and systems."
If you want to make money in gypsum this link is for you: United States Gypsum investor information.
And gypsum might even be on Mars. Read BBC's article on NASA's Opportunity rover.


To the best of our knowledge all information is current. If you should discover any errors, however, please let us know. Thanks!