New Mexico


MOON OVER NEW MEXICO
Photo: Tory Davis
New Mexico is a phenomenon because for many people it doesn't exist. Yes, there is Arizona, Texas, and Colorado. What do you mean, New Mexico? Huh.
How can you overlook 121,593 square miles (314,925 square kilometers)?

New Mexico is actually the fifth largest of the U.S. states.

Maybe one of the reasons for this phenomenon is that the New Mexicans are pretty laid-back people who keep a low profile.

Just guessing...
New Mexico's motto is Crescit eundo, meaning It grows as it goes. The key to understanding this motto, is here. This motto was adapted as state motto back in the days when politicians still knew their Latin.
The state capital of New Mexico is Santa Fe.
Some of the many interesting towns of New Mexico are Taos (close to where Julia Roberts lives), Albuquerque (where a huge Balloon Fiesta takes place), Clayton (where you find dinosaur tracks), Carlsbad with its caverns, Roswell with its UFOs etc.
Very helpful with most inquiries is the New Mexico Department of Tourism.
SouthernNewMexico.com provides you with an abundance of articles from "Activities" to "Wildlife."

New Mexico IN History
You can find a very interesting New Mexico timeline here. Did you know that between the years 1850 and 1863 Arizona was part of the Territory of New Mexico? And even more than that, check it out.

Map of New Mexico Territory, 1824
Click to enlarge


In 1912 New Mexico became the 47th state of the Union. Here you can visit the New Mexico State Government's site.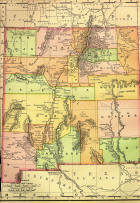 MAP OF NEW MEXICO IN 1895
Click to enlarge


New Mexico Climate
New Mexico has a 70% possibility of sunshine (source). This is a neat page from the New Mexico Climate Center.
Find out the current time in New Mexico from the official U.S. clock.


ROAMING SOUTHERN New Mexico
| | |
| --- | --- |
| | If you feel like roaming Southern New Mexico, consider yourself lucky as there exists a book with this very title. What are the odds! Written by Phyllis Eileen Banks and available at Amazon.com |

And yes, it is true. The heart of the Wild West is the saloon. Here are 26 minutes on The Old West in New Mexico.
Ready for some great pictures of Southern New Mexico?
You're in for a treat. Here is the photo album: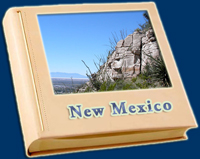 To the best of our knowledge all information is current. If you should discover any errors, however, please let us know. Thanks!